ATTIRE NO.3 - FIGHTING BLUE
author: awesomeduck
FIGHTING (as

Maja

describes it) DARK BLUE AND BLACK ATTIRE...
This attire made its first appearance in Episode 12 and marks a change in Imja's relationship...
Following the 'death wish' fight with GC, CY was fully affected by ES's tears and frustration against his desire to risk/throw his life away.
Her hand warming gesture and partnership proposal made CY think twice about life and the meaning of 'living'. We saw our Daejang take off MH's bandana and put it away. This is a sign that Daejang was ready to let go of the past and start a new beginning or maybe ready to find the reason for living....(off course we all know that the reason is ES!!!)
MOST IMPORTANTLY this was the Attire that CY wore on his FIRST DATE with ES at the palace pavilion and he also gave her a present (his mini sword!!!)
FIRST DATE + PRESENT
ES: How do I look in my new clothes? The Queen gave it to me...
CY:
*Clears his throat* let's go inside
(bwahahaha LOVE shy and awkward CY!!!)
LET's MEET HERE EVERYDAY
AWWWW
FIRST PRESENT FOR ES!!!
FIGHTING and KILLING THE 7 CHILSAS
CY DISCOVERING THE NEW MEANING OF LIVING THROUGH ES
"For us, living is simply not dying. But for that PERSON, it is different. That PERSON is really living. Vigorously"
"So when I look at HER, I start to think 'What the heck am I doing right now?'"
GETTING TREATMENT FROM ES BUT HE COULD NOT STOP LOOKING AT HER AS IF TRYING TO IMPRINT HER IMAGE INTO HIS MEMORY
HIS FIRST HUMAN SMILE BECAUSE OF ES
ANOTHER SMILE BECAUSE OF ES
GETTING FRAMED FOR 500 NYANG!!!!! *STAB* JIS
CY CONTINUES TO STARE AT ES - TAKING IN HER IMAGE AND WORDS!!!
AWWWWWW
BUSTED FOR THE ASPIRIN BOTTLE + FLOWER!!!
Look at his face hahaha PRICELESS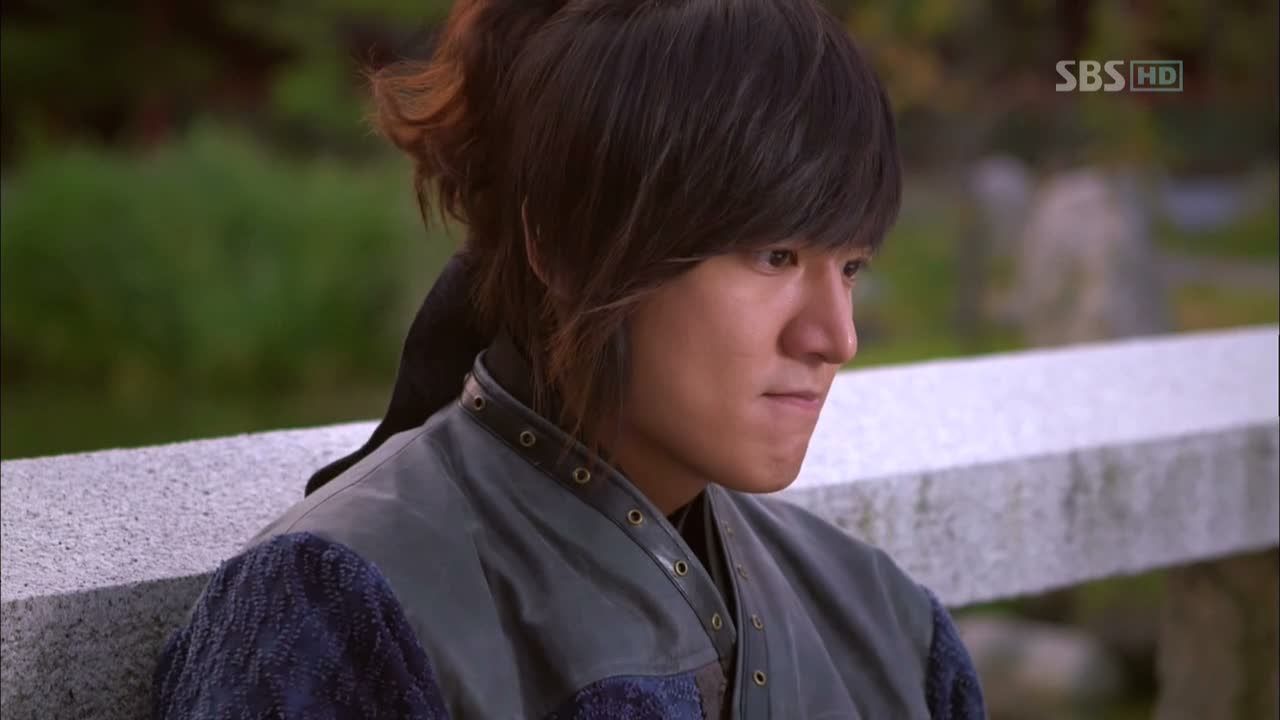 Wearing Attire No.3 our Daejang got busted by ES for the Aspirin bottle and flower (Our Daejang is sooo sentimental ) in order to ensure ES's safety he offers to run away with her Awwwwwww x100
LET'S RUNAWAY & HAVE LOTS OF BABIES!!!
CY:
Meet me at our usual spot -
They have a usual spot OMG!!!
ES: Will you go with me? Can you? You can't....right now you are...
CY: I will go with you, TOGETHER!!!
ADMITTING TO A CRIME HE DID NOT COMMIT & DOING IT WITH ATTITUDE WHILE LOOKING HOT!!!
FIRST HUG FROM EUN SOO - AHHHHHH
CY: You're still too slow...Did you wait long? Yes!!! Daejang we waited 14 episodes for a hug
SHOCKED DAEJANG
HUG HER BACK!!! DO IT PROPERLY!!!
Ahhh you'll learn later....
EATING ALL HER RICE SOUP!!! -
How could you?
Never mess with her food
OKAY WITH THAT SMILE - ALL IS FORGIVEN :x
HAIR FETISH DAEJANG?
IMJA'S FIRST CLOSE ENCOUNTER - WHAOOO..
.My screen is burning up with the hot chemistry
JUST KISSSSSSSSS & DO WHATEVER YOU WANT!!!
SHADOW TRACING BITTERSWEET SWOOOOOOOONNNNNNNNN -
He's been wanting to touch her all day
ES:
"If I solve these dates in the diary and on that day we go heaven's door and it's open, and if I leave – will you be okay?"
CY:
"I won't......be okay"
Pass me some tissues please
ES:
"
I knew it. I don't think I will be okay either......I will miss you"
Okay just give me a towel
CY NEVER SEEN BEFORE - BURSTING WITH EMOTIONS....WORRIED, SCARED, ANGRY and ABOUT TO HAVE A BREAK DOWN all because he almost LOST ES -
LOVE LOVE LOVE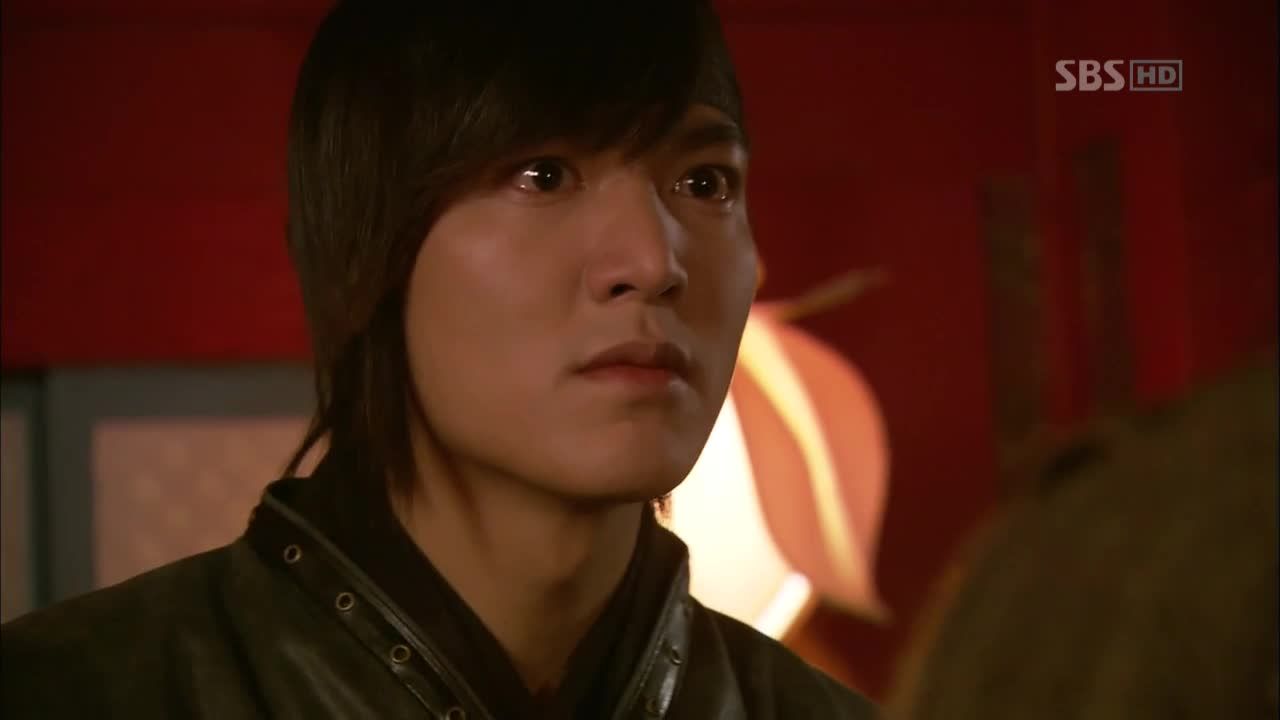 FIRST PECK FROM ES
SHOULD I LEAVE WITH HER? - YESSSSS!!! I think CY finally realises how important ES was to him after almost losing her (I think deep down it was something that he really wanted to do but couldn't because of his duties)
I LOVE YOU ES - PLEASE STAY SAFE!!!
SECOND BEFORE I LEAVE SMILE
this is definitely becoming a habit for Daejang...always turning around to take another look at ES and to get a reassuring smile from ES to keep his heart warm when he is away from her SWOOONNNNNNNN x100000000
CY TO THE RESCUE - AWESOME & SEXY -

This is totally the fighting attire!!!
PICTURE PERFECT!!!
ES:
You're a macho...if you went to the heavenly world with this attitude you will be alone
(Yeah chances of that is like ZERO LOL)
CY: I'm not going...
ES:
"Then instead of the heavenly world, do you want to go to GC's house"
CY:
"I don't want to know"
ES:
"Now when I ask you questions, you answer all of it. Before, you ignored half the things I said"
- That's because he LOVES YOU
"This is becoming a habit for me to lean on you...it feels comfortable even though I have only done it a couple of times"
You lucky girl!!! We want that habit aswell
IF I FALL ASLEEP CARRY ME
HAND MASSAGE - I LOVE THIS PART SWOOONNNNNNN - CY IS SHOWING ALL OF HIS EMOTIONS AMAZING!!!